Japanese food and mushroom③~Mushroom cultivation and sustainability in Japan~
So far, I have introduced the reasons why Japanese food is healthy and the mushrooms that are popular in Japan, which are the central to the "Kinshoku" culture.
LAST PAGE→[Japanese food and mushroom②~Demand of mushrooms in Japan~]
Mushrooms and Japanese foods have a very deep connection!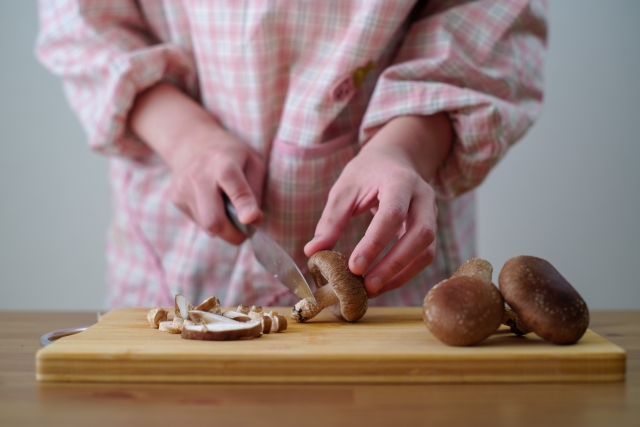 Now, this time, I would like to introduce that the mushroom cultivation methods in Japan is sustainable agriculture.
Did you know Mushrooms are the only organisms on earth that can completely decompose trees? Not all mushrooms, but these type of saprophytic mushrooms that are generally cultivated decompose trees into nutrient sources in the natural environment. We eat such interesting "creatures" as ingredients.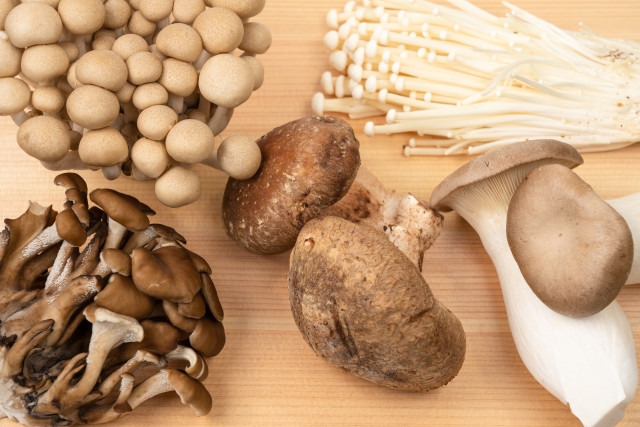 Now, let's get back to the story.
As you can see, mushrooms are organisms that are good at breaking down wood, so we use wood-based materials. In Japan, the main methods are "log cultivation" and "sawdust-based cultivation" (bed cultivation).
Log cultivation is a method of drilling holes in an intact logs and inoculating mushroom spawn. On the other hand, sawdust-based cultivation uses sawdust as its name suggests. A mixture of sawdust and wheat bran, rice bran and etc., is packed in heat-resistant bottles or bags and sterilized. This is the bed for mushrooms. Therefore, it is also called "bed cultivation". After sterilization, inoculate the mushroom spawn.

What is important here is to use trees mainly derived from forests in Japanese mushroom cultivation.
Do you know the function of forests and mountains?
They have the following functions.
・Prevention of landslides
・Water storage function
・Absorbs CO2 and suppresses global warming
In fact, two-thirds of Japan's land area is forest!! Japan's territory is not so small, but there is not much land available, so Japanese people have to make use of it!!
↓Beautiful Japanese forest (Kamikochi, Nagano Pref., Japan)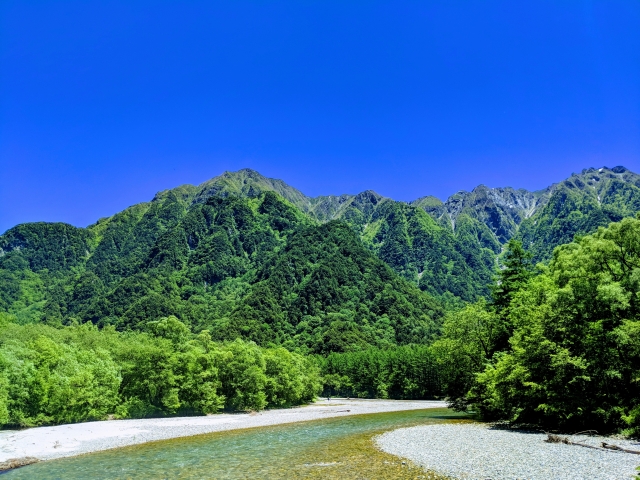 In mushroom cultivation, the constant use of trees maximizes the functions of these forests. And this will also contribute to the SDGs (Sustainable Development Goals) advocated by the United Nations.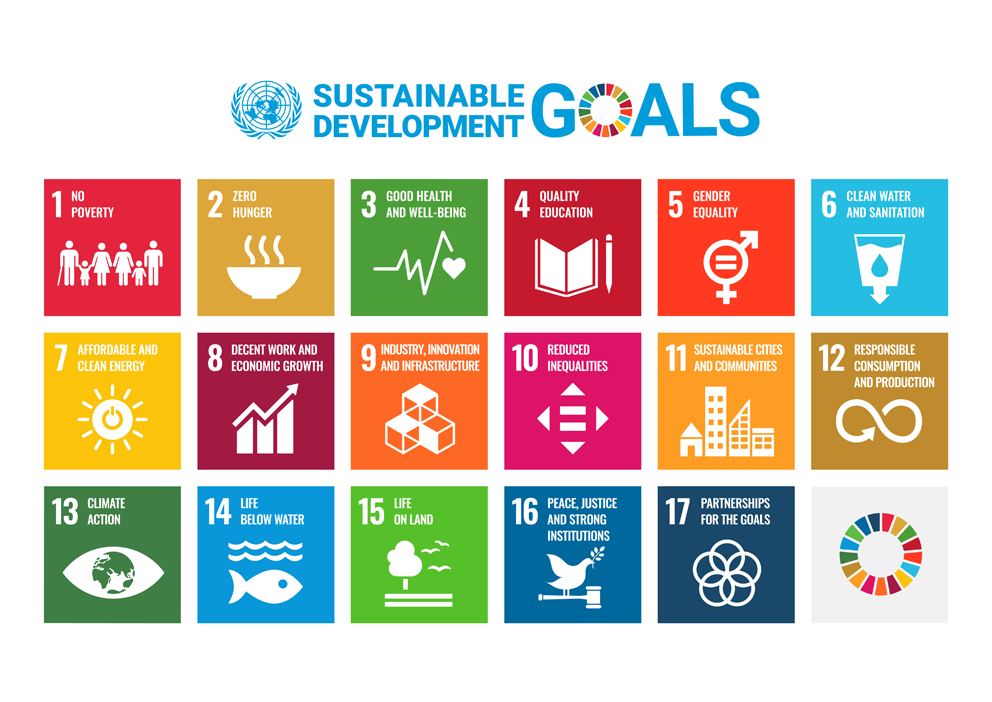 So which target of the SDGs does mushroom cultivation contribute to?
[11 SUSTAINABLE CITIES AND COMMUNITIES], [12 RESPONSIBLE CONSUMPTION AND PRODUCTION], [13 CLIMATE ACTION] and [15 LIFE ON LAND] seems to be the case at least. Also, considering the supply of organic matter from the mountains to the sea, [14 LIFE BELOW WATER] is also applicable.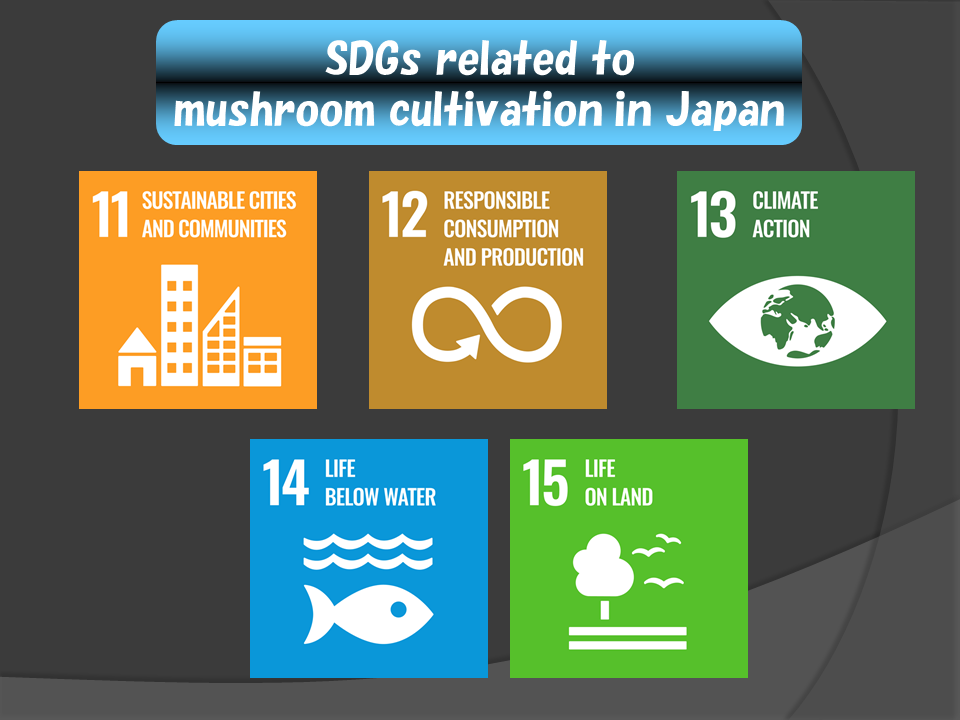 In this way, mushroom cultivation in Japan has led to a global goal, and it is a sustainable agricultural industry that can be continued while protecting the environment.
But lately, this sawdust-based cultivation of mushrooms is at stake in Japan. Major mushroom companies use corn cores imported from abroad instead of sawdust for the cultivation. The reasons are yieldability and cost reduction, but it will weigh on the contribution of Japanese mushroom cultivation to the SDGs.
Will Japanese mushroom cultivation achieve both a contribution to the SDGs and corporate profits?
Next time, I would like to introduce the circumstances around this point and my thoughts.