Japanese food and mushroom②~Demand of mushrooms in Japan~
Last time, I wrote that the good balance of "Ichiju sansai", and "Kinshoku" including mushrooms is the reason why Japanese dishes are healthy. This time, I would like to focus on mushrooms, which are important in "Kinshoku".
LAST PAGE→[Japanese food and mushroom①~Why is Japanese food healthy? ~]
What kind of mushrooms are popular in Japan?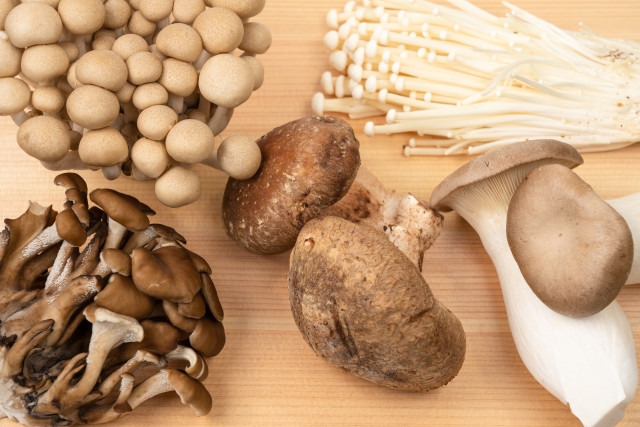 [Popular mushrooms in Japan]
As I wrote in the previous article, about 10kinds of mushrooms are always sold in supermarkets in Japan. From the viewpoint of consumption, Enokitake (Flammulina velutipes) are the most common, followed by Shiitake (Lentinula edodes), Bunashimeji (Hypsizygus marmoreus), Maitake (Grifola frondosa: Ram's head or Sheep's head), Eryngii (Pleurotus eryngii: King trumpet mushroom), Wood ear fungus [including Aragekikurage (Auricularia polytricha: Cloud ear mushroom), Kikurage (Auricularia auricula-judae: Jew's ear) and Shirokikurage (Tremella fuciformis: Snow fungus)] and Nameko (Pholiota nameko).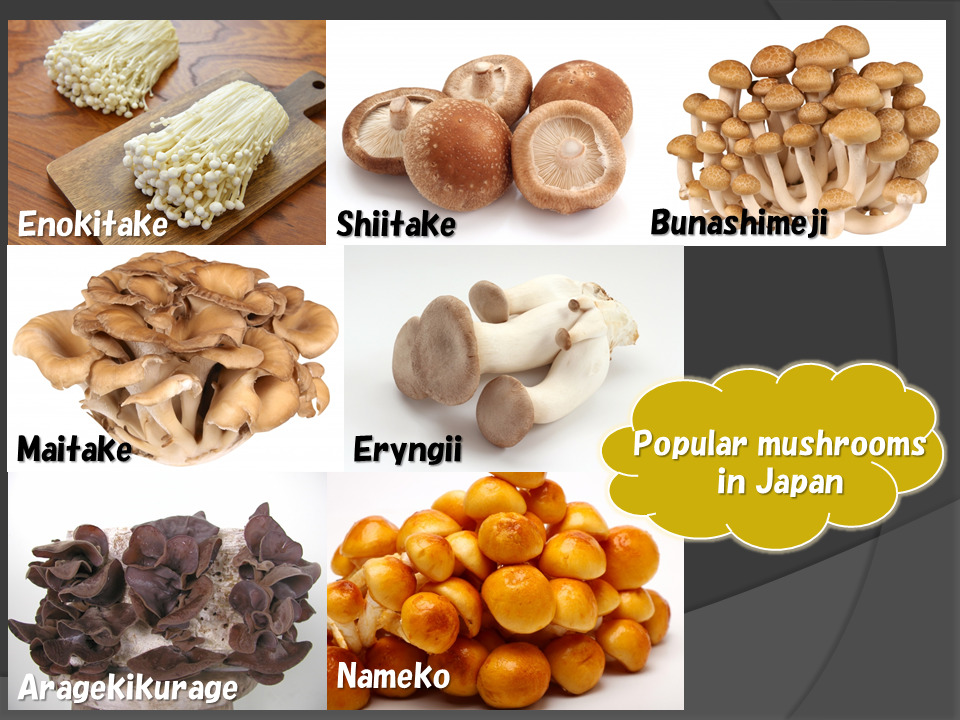 Shiitake mushroom is the most important in traditional Japanese dishes. Shiitake mushrooms are the most world-famous mushroom and are sold everywhere. I think everyone has eaten shiitake used in Chinese food rather than Japanese foods. Shiitake has a unique scent and is used in various dishes such as putting it in a hot pot* (Japanese hotpot) with various meats, fishes and vegetables, stir-frying it, and steaming it. In Japan, dishes using soup stock from dried shiitake mushroom are characteristic. This soup contains "Umami" flavor. Due to this "Umami" flavor, there are few seasonings for Japanese food, and a light seasoning will give you a satisfying taste.
"Umami" flavor is called the fifth basic taste.

*hotpot→A dish where various ingredients such as meats, fishes, seafood and vegetables are cooked in one pot of broth (as follow photo↓).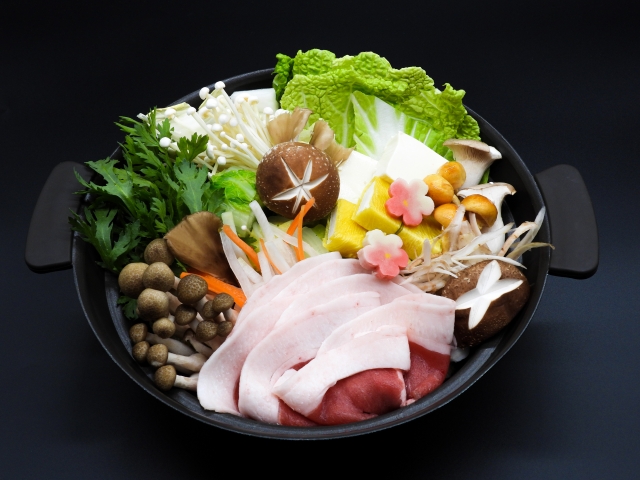 Of the mushrooms sold in Japan, only shiitake mushroom contain "Umami" flavor and are the centerpiece of Japanese dishes. In addition, dried bonito, Japanese seaweed and etc., also contain "Umami" flavors, which are important elements of Japanese food.
↓Umami flavor can generally be taken from dried ingredients.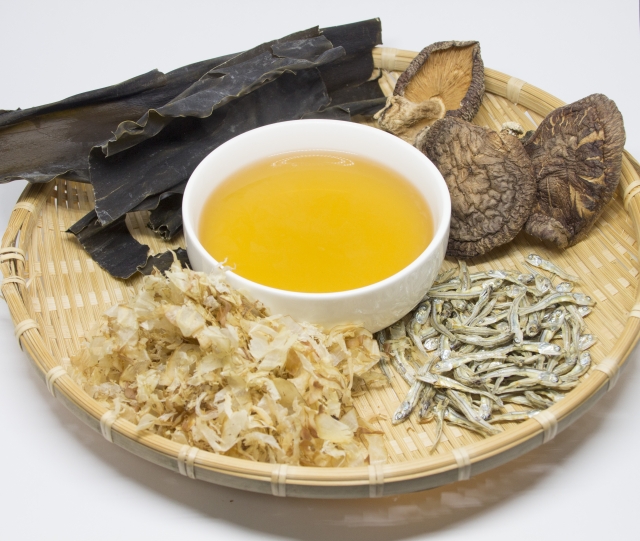 Next, the most popular thing in modern Japanese meals is the Enokitake mushroom (Flammulina velutipes), which has the highest consumption. Enokitake mushroom look like the photo on the left in the wild, but in Japan they are sold like the elongated bean sprouts on the right.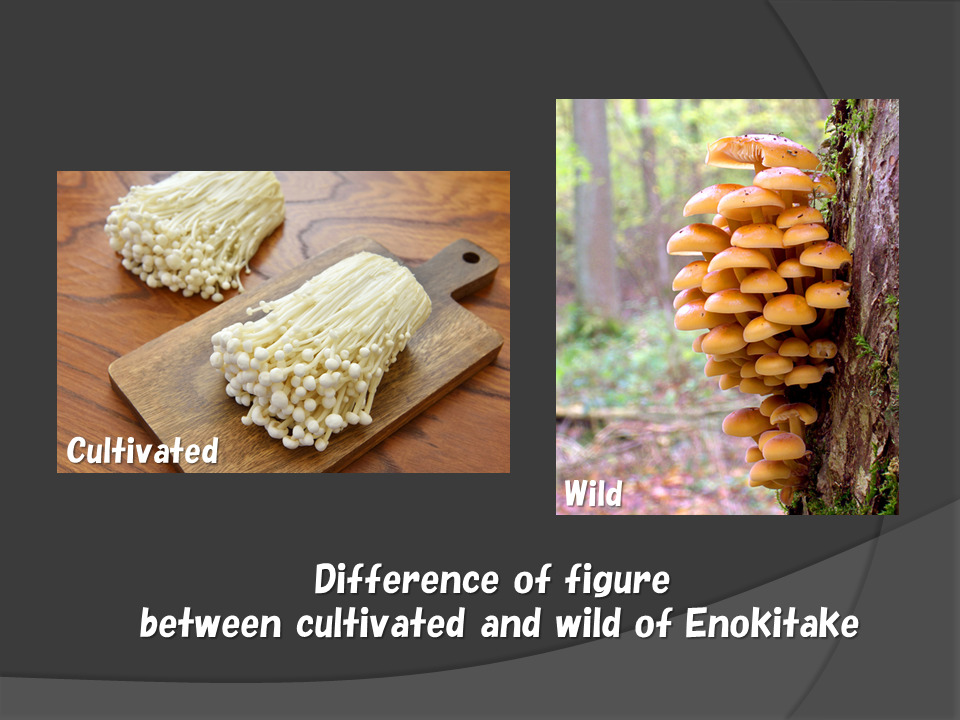 Enokitake does not have a clear taste, so it can be combined with any ingredients. Therefore, Japanese people use it for any kind of cooking, such as boiling or stir-frying with various meats and vegetables more than shiitake mushroom. When cooked, a little slimy comes out, so you can eat it smoothly. I think many people can eat bean sprouts raw, but enokitake mushroom cannot be eaten raw! Let's eat through the heat!
By the way, I love Maitake (Grifola frondosa: Ram's head or Sheep's head) and Nameko (Pholiota nameko).
If people find Maitake mushroom in forest, he/she will be happy to dance (mai=dance, in Japanese). That's why it is named Maitake. Maitake is so delicious that it is perfect for tempura.
Also, Nameko has a unique slimy texture and is delicious when added to miso soup.
In this way, mushrooms are favorite ingredients in healthy Japanese dishes for Japanese people.
NEXT PAGE→[Japanese food and mushroom③~Mushroom cultivation and sustainability in Japan~]